Por: Sonia Sánchez Ronda
"Modelo para un plan de negocio de consultoría política"
1. Definición de la empresa
La empresa Pirámide es una consultora política y de relaciones públicas que opera a nivel internacional en España y Latinoamérica.
Asesora a partidos políticos, candidatos, instituciones y administraciones públicas, a nivel nacional y regional.
Con sede central en Madrid (centro político de España), sedes en Brasilia (Brasil), Bogotá (Colombia), Santiago de Chile (Chile), México DF (México) y
Lima (Perú).
Los diversos departamentos que integrarán cada sede serán:
– Departamento de estrategia: se encargará de desarrollar los planes y la estructura de cada campaña y/o servicio concreto. Estudio de la competencia y del sector, análisis de sectores.
– Departamento jurídico-legal: apoyo y seguimiento legislativo, asesoría legal, informes normativos.
– Departamento de comunicación: integra los responsables de los gabinetes de prensa, relación con medios, publicidad y marketing.
– Departamento digital: redes sociales, estrategias online, SEO, SEM, Marketing digital.
– Departamento de public affairs: relación con las instituciones, encuentros con stakeholders, análisis institucional.
La empresa contará con un equipo multidisciplinar e internacional formado por periodistas, abogados, economistas y sociólogos. Cada sede contará con expertos en cada división y con profesionales nativos que asesoren a todos los niveles.
Se inscribirá en las siguientes organizaciones: European Association of Public Affairs' Consultancies (EPACA); Asociación para el Progreso de la Dirección (APD); Asociación de Directivos de Comunicación (DIRCOM); European Association of Political Consultants (EAPC); Asociación Latinoamericana de Investigadores en Campañas Electorales (ALICE); Asociación de Comunicación Política (ACOP); Asociación de Empresas Consultoras en Relaciones Públicas y Comunicación (ADECEC); Asociación Española de Consultores Políticos (AESCOP); Asociación de Consultores Políticos Latinoamericanos (ALACOP); Asociación Brasileña de los Consultores Políticos (ABCOP), entre otras.
1.1 Servicios:
Servicio 360º en campañas electorales: dirección general de la campaña; análisis y elaboración de informes estratégicos a través de encuestas y sondeos (intención de voto, vulnerabilidad de la oposición, niveles de identificación con la ciudadanía y el electorado); apoyo legislativo y relaciones institucionales con los diversos poderes, así como con grandes empresas, asociaciones, think tanks, ONGs, organizaciones internacionales y supranacionales, y gobiernos extranjeros fronterizos, influyentes y con relación histórica. Asesoramiento en la elaboración de programas electorales. Análisis económico, legislativo y social del país/región; campañas 2.0, desarrollo de redes sociales y página web oficial; organización de eventos, meetings. Apoyo en la búsqueda de inversores, colaboradores, donantes, crowfounding. Diseño y producción de publicidad, elaboración de materiales para la campaña. Auditoría final.
Campañas de imagen personal: posicionamiento de los candidatos desde la base para darles a conocer ante la población; plan de PR en medios de comunicación (tribunas de opinión, entrevistas, encuentros one-to-one con principales medios del país/región); formación de portavoces y preparación para intervenciones públicas y debates; coaching de imagen; plan de visibilidad en foros, encuentros y convenciones; creación y desarrollo de redes sociales propias, estrategia online.
Comunicación integral de partidos políticos: servicio de gabinete de prensa; gestión estratégica de relaciones con medios, desarrollo de página web y redes sociales; plan de visibilidad en medios; comunicación interna del partido; construir y fortalecer las relaciones institucionales con el Gobierno/oposición y diversos partidos políticos, grandes empresas, asociaciones, think tanks, ONGs, organizaciones internacionales y supranacionales. Apoyo legislativo; formación de portavoces; desarrollo de estrategias; informes estratégicos a través de encuestas y sondeos; tracking para medición de variaciones y tendencias, focus groups; preparación de argumentarios, discursos e intervenciones. Gestión de crisis. Organización de visitas institucionales. Campañas de fundraising. Asesoramiento en la elaboración de programas políticos.
1.2. Análisis DAFO: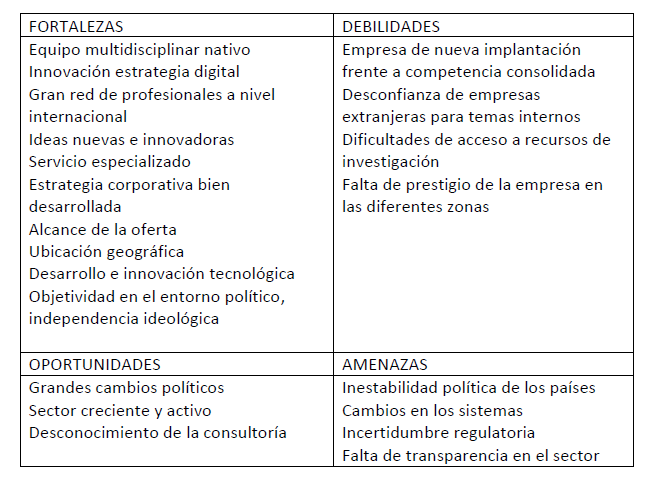 2. Análisis del sector:
España:
Con la Transición y la Ley Electoral se creó un sistema en el que predominarían dos partidos fuertes en detrimento de los que menos fuerza tuvieran a nivel nacional, favoreciendo no sólo a los dos grandes sino a los nacionalistas. Este turnismo a lo largo de 40 años ha provocado un intenso desgaste y los políticos han perdido el foco y el contacto con la sociedad real.
El cansancio vital de la población, la impresión de que los gobiernos no gobiernan para el pueblo, la crisis económica, los escándalos de corrupción, el cambio generacional y la falta de respuestas han provocado la floración de más actores en este sistema que parecía sólido y aumentan de forma considerable –no en número sino en importancia y fuerza- los invitados a jugar.
En estos momentos, por primera vez se plantean alternativas reales a las dos grandes fuerzas históricas y es el gran momento de la consultoría y el asesoramiento político en el país. La cercanía de las elecciones generales y municipales y el contexto de incertidumbre política convierten el momento y el lugar en los idóneos para la profesión de consultor político.
La clase política española se siente sobreexpuesta en nuestra hipermediatizada sociedad, de esta forma, la manera de hacer consultoría política se ha movido del analógico al digital y la inmediatez de la actualidad, la demanda de información instantánea, el sensacionalismo y las bombas informativas que capten la atención de los ciudadanos hacen necesaria la consultoría para partidos, campañas y
candidatos.
Economía:
Para este año, el Gobierno prevé que el PIB crezca un 2%, aunque desde el Ministerio de Economía y Competitividad se avanzó a principios de año que posiblemente esta cifra debería ser revisada al alza a lo largo del ejercicio.
Los números difundidos por el INE confirman que el mercado laboral ha dejado de caer y ha comenzado a recuperarse. A pesar de que el número de parados subió en el último trimestre del año en 30.100 personas situándose en 5.457.700, los datos de la Encuesta de Población Activa señalan que en el último año el paro se redujo en 477.900 personas y se situó en un 23,70%. Esto significa que la tasa de paro descendió en un año más de dos puntos porcentuales, desde el 25,73% del cuarto trimestre de 2013.
Por otra parte, el número de activos se amplió en el último trimestre del año en 95.200 hasta las 23.026.800 personas, aumentando la tasa de actividad 0,25 puntos hasta el 59,77%. Aquí cabe subrayar el papel del sector privado en la creación de empleo ya que en los últimos 12 meses, la ocupación subió en este sector en 415.700 personas, mientras que las Administraciones públicas sólo crearon 18.100 puestos de trabajo.
Según el Gobierno la economía española tendrá dos o tres años de crecimiento en torno al 2,5% o el 3%, con creación de empleo, el sector exterior aportando y una inflación reducida. Estos vaticinios se colocan en línea con lo anunciado por el Fondo Monetario Internacional en sus últimas previsiones. En ellas revisaba a la baja el crecimiento de todos los grandes países de la zona euro, excepto el de España, que llega al 2% para este año y al 1,8% para el que viene.
El FMI ha estado revisando al alza las expectativas del PIB español desde hace más de un año. Lo hizo seis veces consecutivas y en el informe Perspectivas para Economía Mundial, España es junto a Estados Unidos, la única gran economía que ha visto mejoradas sus expectativas y recibe la segunda mayor corrección al alza de las 26 economías recogidas en el estudio.
América Latina:
Mientras que en los Estados Unidos y en menor medida en Europa esta disciplina tiene larga tradición y trayectoria, la irrupción de la mercadotecnia política en América Latina en general es un fenómeno relativamente reciente.
Latinoamérica es actualmente una región con más de dos décadas de gobiernos democráticos pero por otro lado se enfrenta a una creciente crisis social: existen profundas desigualdades sociales, hay serios niveles de pobreza, el crecimiento económico es todavía insuficiente, se ha reducido el gran crecimiento económico de los últimos años –que había atraído grandes inversiones extranjeras-, y ha aumentado la insatisfacción ciudadana y el descontento popular.
Para que la democracia se mantenga y se extienda a los países de la zona que aún se mantienen en situaciones arcaicas, América Latina necesita trabajar para que las instituciones democráticas a todos los niveles sean transparentes, reporten sus acciones y aprendan a desarrollar las habilidades y capacidades necesarias para desempeñar sus funciones fundamentales.
Demostrar que los gobiernos democráticos trabajan para mejorar el bienestar de la sociedad, que son capaces de dar respuesta a las preocupaciones del pueblo y que están sujetos al control ciudadano, es la tarea principal y el objetivo de nuestra consultora política.
La consultoría política es una disciplina si no desconocida, incomprendida en Latinoamérica incluso por la clase política. La decepción que han generado muchos sistemas democráticos, ha sido porque muchos de los problemas sociales no han sido resueltos: el desempleo, la pobreza, la inseguridad pública, el narcotráfico y el analfabetismo. Si se desacredita la política, la consultoría política se desprestigia por descontado, pero no puede haber consultoría política con sistemas totalitarios o dictatoriales que basan su estrategia y mando en el control, la violencia y el miedo.
Economía:
El Índice de Clima Económico en Latinoamérica cayó en enero a su peor nivel desde 2009: hasta los 75 puntos en enero (80 en octubre de 2014), según el sondeo trimestral de la FGV. Este clima mejoró en países como Chile y Perú. De hecho, Perú alcanzó el mejor indicador con 131 puntos en enero, frente a los 116 de octubre del año pasado. Chile se mantiene por encima de la media con 85 puntos.
El Fondo Monetario Internacional rebajó recientemente el pronóstico de crecimiento para toda la región de América Latina situándolo en un 1,3%, nueve décimas por debajo de la última previsión de octubre de 2014. A pesar de lo pesimista de estos datos, otros organismos como la OCDE, Cepal y CAF (Banco de Desarrollo de América Latina) en su informe de perspectivas económicas para 2015, señalan un crecimiento del 2% al 2,5%.
La economía de la zona va a crecer por encima del año pasado pero América Latina es un mundo con grandes desigualdades. La Alianza del Pacífico (México, Perú, Chile y Colombia) son los que tienen las mejores perspectivas de futuro según el FMI: México crecerá un 3,2%, Chile un 2,8%, Colombia un 3,8% y Perú un 4%.
La crisis del petróleo afectará de alguna forma a los países exportadores. México y Colombia son los países mejor preparados para afrontar la caída de los precios, aunque los Gobiernos tienen previsto recortar su presupuesto. En Colombia la petrolera estatal Ecopetrol ha anunciado una disminución del 30% en sus inversiones este año. A pesar de los problemas en este sector, Colombia tiene previsto invertir 260.000 millones de dólares para conseguir los estándares mínimos de desarrollo para acelerar su ingreso en la OCDE -Colombia solicitó su ingreso el año pasado y Perú también se encuentra en las puertas de acceso-. En cuanto a México, Peña Nieto ya ha anunciado un recorte de 3.500 millones de
euros aunque podría incluso aumentarse.
3. Análisis de la competencia:
Mas Consulting: es una de las firmas más reputadas y sería la principal competidora y objetivo al que llegar debido a sus recursos (contactos sobre todo), experiencia y ámbito de actuación. Asesora a la alta dirección empresarial, política e institucional a nivel internacional y también trabaja para empresas, el sector público, candidatos y partidos políticos y para la sociedad civil. En el ámbito político, que es el que nos interesa, cuentan con amplia experiencia en campañas de movilización, mantienen una red de contactos en el mundo de la política, la empresa y la sociedad civil; y trabajan en lo que titulan 'campaña permanente' para mantenerse en contacto con los ciudadanos durante toda la legislatura. Cuentan con los principales premios de comunicación política y asuntos públicos y forman parte de la directiva de
grandes asociaciones.
La fuerza de la estrategia digital y la nula identificación con ciertos partidos políticos pueden beneficiar a nuestra consultora en detrimento de Mas Consulting.
 Redondo y Asociados: asesora a partidos políticos, alcaldes, presidentes y candidatos nacionales, autonómicos y municipales. En asuntos públicos colabora actualmente con empresas, patronales, asociaciones, gobiernos autonómicos, gobiernos extranjeros y organizaciones del Tercer Sector. Tienen una gran experiencia en comunicación estratégica, lobbying y dirección de campañas políticas. Operan en España, Portugal y América Latina y son expertos en la realización de encuestas electorales y estudios de opinión pública.
Se proclaman especialistas en determinados sectores y productos que pueden perjudicarles a la hora de desarrollar estrategias integrales; además no cuentan con experiencia (ni sedes) en la gestión de campañas políticas en países latinos.
Management & Research: operan en Europa, América, Norte de África y sudeste de Asia. Cuentan con sedes en España, Chile, Panamá, Perú y Brasil. Se dedican fundamentalmente a la gestión y el desarrollo de proyectos a nivel local y regional. Cuentan con equipos de carácter multidisciplinar, para la ejecución de proyectos en cualquier parte del mundo.
Su ámbito de actuación es muy amplio, no están especializados en consultoría política en exclusiva.
Ostos Sola: otra de las grandes de la consultoría estratégica, ofrecen servicios integrales a líderes políticos, sociales y económicos. Tienen experiencia y sedes en España, Colombia, México, Guatemala, República Dominicana y Haití.
Su punto débil puede ser la implementación de estrategias digitales ad hoc.
BB&R: se dedican a la consultoría, investigación y capacitación en las áreas Electoral, Gobierno y Políticas Públicas, I+D+i, Relaciones Público-Privadas y Responsabilidad Social. Cuentan con buenas estrategias 2.0 y un amplio catálogo de servicios para ofrecer al sector público campañas integrales de
consultoría, estrategia y comunicación.
Cuentan con experiencia en diversas entidades de los países de la zona y una de las socias fundadoras es mexicana, aunque no cuentan con sedes en ningún país de América Latina.
Novadays: uno de sus puntos fuertes es la localización de sus oficinas en varias ciudades españolas, además de Brasil, Argentina, Chile, Perú, Ecuador, Colombia, Venezuela, México y Miami (USA). Su principal cliente son las administraciones públicas para las que realizan la planificación estratégica.
No operan con campañas electorales (se centran en desarrollar y asesorar en proyectos específicos, realizar estudios y diseñar planes de actuación en contextos concretos: transportes,
economía, ciencia, proyectos sociales).
LCB Marketing Político: son especialistas en campañas electorales y asesoramiento a partidos políticos, cuentan con una amplísima experiencia en diversos países. Realizan personalmente estrategias muy completas que incluyen desde software electoral hasta anuncios, pasando por diseño de
todos los materiales.
Se encuentran muy centrados en campañas electorales y no tanto en campañas integrales de comunicación a lo largo de toda la legislatura. Sólo cuentan con oficinas en Argentina y París.
4. Estrategia:
4.1. Estrategia 2.0
Uno de los puntos fuertes de nuestra consultora es su Departamento Digital, se trata de una división que desarrollará en exclusiva campañas 2.0 en el entorno digital: lanzamiento de campañas virales, estrategias de SEO y SEM (linklearning, linkbating), acciones de impacto, formatos New Media, posicionamiento y reputación online, gestión de comunidades digitales, creación de interfaces y plataformas, analytics, monitorización, acercamiento a la población joven, creación, desarrollo y gestión de redes sociales con campañas específicas para cada una (es importante conocer que el desarrollo de cada una de ellas y el target es muy diverso), y páginas web con información útil, práctica y de valor para el ciudadano, buzón de propuestas, segmentación por zonas, edades, preocupaciones; un portal donde los partidos y políticos interactúen con todos aquellos que necesiten o requieran de sus respuestas. Ya no basta gobernar sin saber de primera mano qué y cómo piensan nuestros votantes y los que no lo son.
Internet se ha convertido en un punto de encuentro que el político debe aprovechar en todo momento para acercarse al ciudadano de a pie.
Gracias a un equipo formado por informáticos, programadores, estrategas del mundo digital, periodistas, publicistas y expertos en el mundo del big data, las estrategias online serán uno de los puntos fuertes de cualquier campaña a nivel nacional y regional.
Este tipo de proyectos se compaginarán con las campañas y la comunicación analógica y tradicional sobre todo en aquellas zonas de Latinoamérica menos desarrolladas en las que realizar una estrategia online no tendría objeto.
Brasil por ejemplo es uno de los marcos ideales donde comenzar a desarrollar estrategias de este tipo ya que en abril del año pasado se aprobó la ley de Marco Civil, una carta de derechos ciudadanos respecto a Internet que establece principios y garantías. Según los datos del Instituto Brasileño de Geografía y Estadística en su Encuesta Nacional de Domicilios, la mitad de la población mayor de 10 años tuvo acceso a internet en el país en el 2013, esto supone un total de 86,7 millones de
personas.
También en Colombia, según un estudio de consumo digital realizado por una consultora, el 59% de los colombianos usa internet todos los días, y si observamos el porcentaje de personas en las zonas más desarrolladas, éste sube hasta el 77% en 2013. Un 81% declara tener perfiles en redes sociales. Además entre mayo y junio de este año estará listo el cable submarino del Pacífico que aumentará la conectividad y la velocidad de internet en el país que dejará de depender de otros sistemas.
En Perú las cifras son un poco más bajas, según la Encuesta Nacional de Hogares del Instituto Nacional de Estadística e Informática del país, sólo un 39,2% de la población tiene acceso a internet, aunque si observamos las cifras en el área metropolitana, aumentan hasta el 58,3%.
Chile, uno de los países más desarrollados de América Latina cuenta con un 66% de ciudadanos con conexión permanente a internet, según datos de la Encuesta Nacional sobre Accesos y Usos, Usuarios y Disposición de Pago por Internet desarrollado por la Subsecretaría de Telecomunicaciones y la Facultad de Economía y Negocios de la Universidad de Chile en 2014. Chile se encuentra además, desarrollando iniciativas para aumentar el acceso a internet en todas sus regiones.
El número de usuarios de internet en México no supera el 50% de la población, aunque en el 62% de los hogares cuentan con ordenador, según datos de 2014 de la Asociación Mexicana de Internet. Peña Nieto se encuentra además implementando una reforma en Telecomunicaciones en las que busca generar una competencia efectiva y un desarrollo importante de Internet.
En España las cifras aumentan hasta el 74,4% de hogares con acceso a la red; de hecho el año pasado el móvil se convirtió, con un 67,2%, en el principal dispositivo a través del cual la población accede a Internet, según la Encuesta sobre Equipamiento y Uso de Tecnologías de Información y Comunicación en los hogares, del Instituto Nacional de
Estadística.
4.2 Localización de las sedes
El segundo punto fuerte es la localización de las sedes ya que en vez de realizar la consultoría desde la sede central, se establecen bases en diversos países para trabajar in situ. A través de la localización estratégica de estas bases, se consigue un acercamiento geográfico a las diversas zonas de América Latina, si bien cada país cuenta con sus particularidades y debe ser tratado de manera autónoma para
lo que se contempla la contratación de profesionales de diferentes áreas pero que sean nativas o al menos demuestren un conocimiento nivel experto del país en el que van a trabajar.
Partiendo no sólo de la singularidad de cada una de las culturas latinas, de lo delicado que es tratar con partidos políticos y campañas electorales que deciden el futuro de los ciudadanos; y de la importancia de conocer el país en el que se va a operar a nivel histórico y socio-económico, la mejor opción es trabajar de forma especializada en los lugares que demanden la labor de la consultora con un equipo profesional autóctono especializado en las diferentes áreas que conforman la empresa y dirigidos por uno de los expertos a nivel estratégico que partirán desde la sede madrileña.
A partir de la consecución de resultados positivos en estas localizaciones se procedería a la apertura de nuevas sedes en otros países latinoamericanos o al traslado de ciertos profesionales o de los equipos a la región concreta, siempre asesorados de cerca por expertos del país.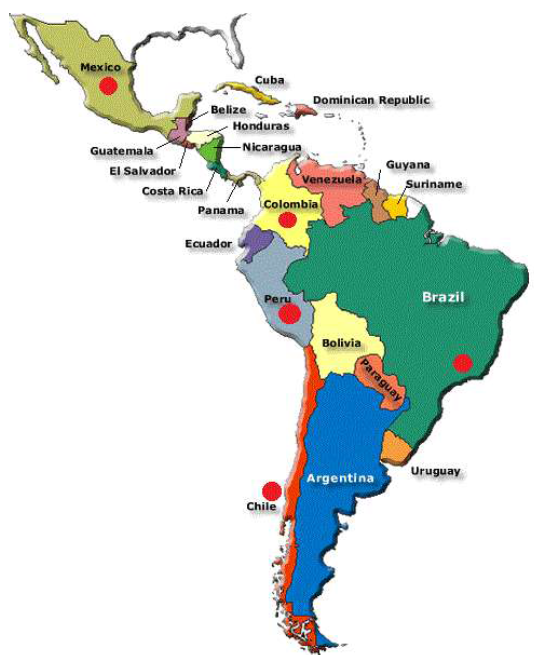 La selección de países se ha realizado basándose en criterios geoestratégicos, de crecimiento y proyección económica, por la historia política del país y por la creciente necesidad de ayudar a los partidos locales a encumbrar y profesionalizar sus campañas, dar a conocer a nuevos candidatos en un contexto de cambio histórico y legislativo, modernizar, dar a conocer y hacer más transparentes sus procesos, ayudar a ganar unas elecciones y contribuir a mejorar el bienestar y la calidad de vida de la población.
España, Madrid: esta ciudad ha sido escogida por ser la capital y el centro ejecutivo y legislativo del país. Aquí se concentran las sedes de los grandes poderes, embajadas, consulados, así como grandes consejos de administración y sedes centrales de empresas importantes.
La cercanía de las elecciones generales y el clima de incertidumbre política –el último informe de Metroscopia señala que hay cuatro partidos (Podemos, PSOE, PP y Ciudadanos) luchando por la primera plaza con entornos muy similares de intención de voto- hacen la labor de la consultoría política no sólo interesante sino esencial. Nuevos protagonistas en este momento cobran gran importancia, ya que un 72% de los españoles desaprueba la gestión del PP en los últimos años de gobierno y un 82% desaprueba la gestión del PSOE como principal partido en la oposición.
Pros: demanda, gran desarrollo de la labor de la consultoría política, aumento de los partidos políticos, necesidad de innovación.
Contras: alta competencia, identificación ideológica.
Colombia, Bogotá: las elecciones municipales se celebrarán el próximo 25 octubre de 2015 (las presidenciales y legislativas fueron en octubre y marzo del 2014 respectivamente).
La crisis del petróleo se dejará ver en Colombia, según los cálculos del propio gobierno, las arcas públicas dejarán de percibir 3.500 millones de euros, aunque se encuentra preparado para ello. De hecho, el gobierno de Santos ha aprobado un Plan Nacional de Desarrollo en el que se invertirán
260.000 millones de euros hasta 2018.
Uno de los grandes conflictos históricos de Colombia han sido las FARC y uno de los retos es mejorar la seguridad del país –actualmente el gobierno mantiene abierto un canal de diálogo con los terroristas-.
Una buena gestión de la crisis del petróleo y colaborar en la mejora de las relaciones con las FARC se presentan como dos puntos interesantes y primordiales en la labor de la consultoría política en Colombia.
Brasil, Brasilia: acaban de celebrarse las elecciones presidenciales y legislativas en octubre de 2014; se trata de un momento clave para el país y debido a diferentes puntos se presenta esencial la preparación de la imagen de los partidos de cara a los siguientes comicios.
La reforma del mercado laboral es imprescindible para convertir a Brasil en una economía competitiva pero debido al contenido de la reforma es posible que provoque un gran descontento en la población. De hecho el día 15 de marzo está convocada una manifestación en la que se pedirá la dimisión de Rousseff.
Además de ayudar a gestionar el descontento generalizado de los ciudadanos por esta ley, tenemos el tema de la corrupción. El escándalo de los sobornos de Petrobras y el desplome de los precios de las materias primas pueden ser los detonantes de algo mucho más grave que habrá que saber contener y gestionar de la mejor manera posible.
En Brasil hay cuatro grandes partidos (de los 15 que están representados en el Congreso) que pueden destacarse en las futuras elecciones – El Partido de los Trabajadores, el Partido de la Social Democracia Brasileña, el Partido del Movimiento Democrático Brasileño y el Demócratas-. Brasil debe reinventarse económica y socialmente y la consultoría política puede jugar un papel importante en estos momentos en el país.
Además, el tamaño de Brasil y su organización territorial permiten una extensión de la labor de consultoría política muy independiente y personalizada; los estados y municipios se caracterizan por tener autogestión, autogobierno y auto-organización, es decir, eligen a sus líderes y representantes políticos y administran sus asuntos públicos sin interferencia de otros municipios, estados o de la Unión.
Chile, Santiago de Chile: existe una previsión de que el precio de los minerales repunte tras la caída de 2014, lo que beneficiará al país, primer exportador de cobre del mundo. Las elecciones presidenciales y legislativas se celebraron en noviembre de 2013, las próximas elecciones previstas para
2017.
Las pasadas elecciones fueron las primeras en las que las coaliciones y partidos pudieron someterse al sistema de primarias voluntarias, vinculantes y organizadas por el Servicio Electoral tras de la aprobación la ley respectiva en octubre de 2012. También fue la primera elección presidencial bajo la reforma constitucional. Consolidar este sistema y seguir informando a la población de su funcionamiento es uno de los retos de la política. Además, estas elecciones fueron disputadas por nueve candidatos, una cifra inédita en la historia electoral de Chile.
Un dato importante es que la presidenta Bachelet ha anunciado recientemente que van a comenzar las consultas ciudadanas para una nueva Constitución (la actual data de 1980).
Chile es uno de los países de la región con mayor estabilidad democrática a nivel social y económico, y mantener este estatus en la región así como ayudar a gestionar los nuevos cambios normativos que se avecinan crearán un contexto propicio para la consultoría política.
Recientemente han sido condenados algunos de los implicados en el caso Penta (trama de evasión de impuestos y financiamiento irregular de la política que afecta sobre todo a la derecha), un caso que es necesario aclarar.
Perú, Lima: como hemos indicado antes, Perú es el país de América Latina que más crecerá en 2015. Aunque la previsión del FMI sea del 4%, hay otros pronósticos que elevan estas cifras: la OCDE y Cepal suponen que el país crecerá por encima del 5%. La previsión que contemplábamos antes sobre los minerales, también beneficiará a esta región, que cuenta con una economía muy ligada al sector minero y a la exportación de este producto. Las últimas elecciones regionales y municipales fueron en octubre de 2014, y las generales tendrán lugar el año que viene.
Las empresas españolas son las que más invierten en Perú, suponiendo un 20% del total de la inversión extranjera.
El 2015 se plantea como el año de la consolidación de Perú como uno de los grandes motores de la región. La deuda bruta es del 19% del PIB, la tercera más baja de Latinoamérica y no ha estado basando su crecimiento en los últimos años en el consumo interno; esto puede ayudarle en una potencial
crisis.
El país necesita seguir haciendo reformas políticas e institucionales que animen a la inversión extranjera y que consigan convencer a la población de que Perú tiene un hueco entre las grandes potencias latinas y que puede obtener un gran reconocimiento internacional.
La turbulenta historia política reciente de Perú (crisis constitucional y corrupción con Fujimori, gobierno de transición, recesión económica, etc.) supone un reto para la política del país, que debe presentarse ante los ciudadanos como solvente, responsable y estable.
México, México DF: el país está atravesando un momento agridulce en el que la economía sigue avanzando en positivo, mantienen las fronteras estables y el narcotráfico se encuentra bastante controlado. Pero en cambio la ciudadanía está sufriendo una crisis de valores en la que está dejando de valorar a los políticos. Peña Nieto admitió públicamente hace poco que la ola de "incredulidad y desconfianza" se estaba haciendo con el pueblo y señaló que deben "reconsiderar a dónde nos dirigimos". La consultoría tiene un papel importante en este punto de inflexión para el país con el objetivo de recuperar la confianza de los ciudadanos.
Las tragedias de Iguala, Tlatlaya y la matanza de Ayotzinapa han puesto de relieve los problemas que giran en torno al Ejército, el crimen organizado y la brutalidad de los actos cometidos. Si a esto sumamos los escándalos de las viviendas de la mujer del Presidente y del Secretario de Hacienda, el país se sitúa al borde de la revolución.
El gran paquete de reformas que puso en marcha Peña Nieto desde el inicio de su legislatura ha intentado calmar los ánimos y presentarse a sí mismo como el salvador y rejuvenecedor gobernante del país. Ahora ha admitido sus errores y comienza a realizar las reformas necesarias: seguridad, impunidad, anticorrupción, Hacienda, etc.
El 7 de junio se celebran las elecciones parciales (Cámara de Diputados, 1.015 ayuntamientos, 17 Cámaras estatales y 9 gobernadores). Los comicios serán inevitablemente una reválida para Peña Nieto y para su partido, el PRI. Pero también para las otras fuerzas.
El resto de países han sido excluidos de la selección por las siguientes razones:
 Argentina: una de las grandes potencias en la zona que está a punto de derrumbarse y dejarse enterrar. Los escándalos de corrupción, intrigas palaciegas con asesinatos incluidos, crisis y desequilibrio económico, enorme deuda nacional, falta de transparencia, reducción de la libertad de prensa, multiplicación de los homicidios, disminución de la seguridad ciudadana, comercio de drogas y el descontento popular más que notable, son algunos de los puntos que hacen de Argentina un país nada apetecible para instalar una sede de consultoría política por el peligro generado por la
inestabilidad social.
Venezuela: la crisis económica que está atravesando el país, es también una crisis social y de identidad. El FMI ha pronosticado un retroceso del 7%. Tras 16 años de dictadura cívico-militar, la caída del petróleo y la inestabilidad del gobierno convierten a Venezuela en el peor país para invertir, para establecerse y para asesorar a unos partidos políticos hundidos por la falta de transparencia y de democracia real.
Bolivia: Evo Morales sigue, en su segunda legislatura, moviéndose entre dos aguas: el discurso anticapitalista y patriota revolucionario; y la necesidad imperativa de mantener relaciones con el exterior, conseguir inversiones extranjeras, sacar al país de la pobreza y renovar unas instituciones caducas. El caso de corrupción que atenaza incluso al Fondo Indígena Boliviano ("reserva moral de la humanidad", según el Presidente), y los problemas con sus vecinos (Morales ha llegado a acudir al Papa para que interceda en su litigio con Chile por una salida al mar) ponen de manifiesto
las grietas del sistema.
Paraguay: el país disfruta de un crecimiento económico que se ha situado en un 4,8% en los últimos 20 años, una inflación muy baja, una moneda estable y buenas relaciones con los inversores extranjeros (debido en su mayoría a las ventajas fiscales que ofrece). Además es un país eminentemente agrícola y con un porcentaje alto de población indígena. La corrupción existe, se trata de una lacra generalizada en Latinoamérica, aunque la población aún no termina de despertar y enfrentarse a la situación.
Uruguay: las elecciones han sido hace unas semanas y no habrá nuevas hasta 2020. Un Gobierno tranquilo, de transición hacia reformas sociales que aumenten el bienestar de la población. Se trata de un país con buenas inversiones extranjeras, con un crecimiento sostenido y cuyo mayor problema son las tensas relaciones con Argentina.
Costa Rica: el inicio de 2014 marcó el final del bipartidismo antediluviano que venía sufriendo el país y Luís Guillermo Solís parece haber empezado con buen pie en el Gobierno. La economía crece a un buen ritmo y el ejecutivo se encuentra implementando nuevas reformas a todos los niveles para sacar al exterior un país con un 20% de personas bajo el umbral de pobreza.
Ecuador: desde 2006 Correa gobierna el país con relativa tranquilidad. Ha conseguido estabilidad política y social gracias a la cual la emigración se ha reducido y el país ha subido puntos en cuanto a crecimiento económico. A pesar de los recientes problemas en torno a su 'revolución ciudadana' –que él mismo creó y puede que se le vuelva en contra-, en la que algunos sectores de la sociedad reclaman cambios, Correa cuenta con la aprobación ciudadana por su buena gestión.
Panamá: aún está saliendo del destrozo que hizo Martinelli y que hace ocho meses que Juan Carlos Varela intenta remediar. La corrupción ha manchado la imagen de los políticos y el país, que siempre ha disfrutado de una posición geoestratégica interesante –las obras del canal avanzan con tropiezos-, ha dejado de ser apetecible para la inversión extranjera y tiene un largo camino que recorrer.
Cuba: la ausencia de democracia y de partidos políticos hacen imposible la labor de una consultoría política.
El Salvador: se trata de un país muy pequeño aún en 'construcción', hace poco más de 20 años que salieron de una cruenta guerra civil y son conocidos por la peligrosidad de sus maras y por un clima de violencia en el país con algunas leyes anacrónicas e insostenibles. Los retos principales a los que se enfrenta el gobierno son reforzar la cohesión social, incrementar la confianza entre la ciudadanía, prevenir la violencia y mejorar los sistemas de justicia para que apliquen la ley de forma democrática y transparente.
Honduras: el país se enfrenta a una época de recesión a varios niveles. Los altos índices de desempleo y pobreza, la precariedad de las condiciones de vida, altos niveles de violencia, difícil acceso a educación, vivienda y salud, hacen de Honduras un país complicado para establecerse.
Guatemala: económicamente el país goza de una estabilidad duradera aunque la gran apuesta por las multinacionales ha generado algunas enemistades del ejecutivo con los campesinos, un 65% de la población es indígena. Este sector tan vulnerable se siente desprotegido y es el principal reto del país intentar conciliar a la población.
República Dominicana: el país posee una buena capacidad y desarrollo económico propiciados por el turismo; aunque tiene las amenazas típicas de la zona: desempleo y corrupción. En 2012 fue elegido Danilo Medina cuyos principales retos son la inversión en programas sociales y educación (entre los que se encuentra el debate abierto sobre la prostitución infantil).
5. Plan de negocio
5. 1 Inversión
La consultora Pirámide debe hacer frente a la inversión del alquiler de oficinas en las ciudades de: Madrid, Brasilia, Lima, Bogotá, México DF y Santiago de Chile; mobiliario, equipos informáticos, conexiones de teléfono e Internet e impuestos.
5.2 Recursos Humanos
La empresa también deberá invertir en la contratación de personal en las ciudades de origen (formado por un responsable de estrategia, responsable de comunicaciones, responsable de relaciones institucionales, responsable del departamento digital, responsable jurídico –cada uno de estos departamentos contaría con al menos dos personas-, administración y secretaría.)
La contratación del personal se hará a través de empresas de headhunting y entrevistas a distancia para que el equipo esté preparado antes de la apertura de la sede y tras haber realizado en los diversos países campañas de publicidad y comunicación para dar a conocer Pirámide y tras haber hecho una aproximación a las instituciones y administraciones de cada país intentando generar un clima favorable y de conocimiento hacia la consultora.
5.3 Proveedores
También deberá construir una red de proveedores en distintos ámbitos, intentando externalizar lo menos posible (de ahí el equipo multidisciplinar). Algunos ejemplos de los servicios que se deben subcontratar son: producción e impresión de cartelería, folletos, dípticos, etc.; producción y/o alquiler de todo lo necesario para organización de eventos (espacios, salas, hoteles, tarimas, carpas, pantallas, transporte, catering); traductores; merchandising; fotografía y realización de video (edición, cámaras, post-producción); seguros de responsabilidad civil, de vida y médicos (para los trabajadores de cada campaña); compra de espacios publicitarios (si la legislación lo permite); seguridad personal, etc.
5. 4 Área Jurídico-fiscal
5.4.1 Forma Jurídica de la Sociedad
La forma jurídica de la empresa será Sociedad Limitada (S.L.), se trata de la mejor opción debido a que su capital social será íntegramente desembolsado y sus participaciones divididas entre sus tres socios de forma equitativa.
Para ello se seguirá el método tradicional (frente al telemático) siguiendo los siguientes pasos:
1. Se solicitará en el Registro Mercantil el nombre de la sociedad (solicitud de la Certificación Negativa de Denominación).
2. En el plazo de un mes esta institución nos comunicará si el nombre es válido, no existente y no tiene ningún defecto. En caso contrario se solicitará uno nuevo.
3. Se abrirá una cuenta bancaria depositando el capital social entregado por los socios.
4. Se redactará la Escritura de Constitución ante notario incluyendo la razón social, actividades a realizar y estatutos.
5. Obtención del NIF Provisional aportando copia simple de la escritura.
6. Pago del Impuesto sobre Transmisiones Patrimoniales y Actos Jurídicos Documentados (ITPYAJD).
7. Inscripción de la Sociedad en el Registro Mercantil de Madrid. Dicho registro se encargará de completar la publicidad de la fundación de la sociedad mediante su publicación en el Boletín Oficial del Registro Mercantil (BORME).
8. Obtención del NIF definitivo una vez inscrita la sociedad.
9. Alta en el Impuesto de Actividades Económicas IAE.
10. Inscripción de la Empresa en la Seguridad Social antes del inicio de la actividad (ya que la empresa contratará trabajadores).
El tiempo medio que se tarda en tramitar estos pasos en España es de dos meses.
5.4.2 Métodos de financiación:
Para crear la empresa se recurrirá a la financiación mixta combinando la financiación propia y ajena. Las aportaciones de los socios se complementarán con dinero de terceros que permita crear la estructura de la empresa. La financiación ajena a la que tendremos acceso se puede agrupar en cuatro grupos:
1. Créditos empresariales y préstamos bancarios: supone el grueso de la financiación ajena y la alternativa más probable. Con la mejora de la economía en España las entidades financieras vuelven a dar créditos y préstamos. Cabe destacar que durante el último año estas entidades están siguiendo una política populista basada en ayudas al emprendimiento como medida de reactivar el consumo por lo que nos aprovecharemos de esta situación para lograr la financiación. Se hará un estudio pormenorizado del ROI para establecer la cuantía del préstamo así como de las tasas de interés para elegir la mejor opción.
2. Ayudas y subvenciones: junto a las líneas de crédito, las ayudas y subvenciones gubernamentales formarían un papel importante en la financiación de la empresa. Si bien, cabe recordar que esta forma de financiación no es siempre una posibilidad real ya que la concesión de capital a través de este medio dependerá de muchos factores. Esto lleva a considerar este medio como un complemento más que una opción. Es importante saber que la ventaja que supondría conseguir financiación a través de este medio supone que en la mayoría de los casos el capital se presta a tipo de interés cero y en el mejor de los casos sin tener que retornar la cuantía. Algunas de las ayudas y subvenciones más probables son:
a. Líneas ICO
b. Ayudas para jóvenes emprendedores
c. Ayudas para mujeres emprendedoras
d. Ayudas a la internacionalización (ICEX)
3. Concursos de emprendimiento: en general son una buena opción para start up´s con unas necesidades de financiación bajas aunque siempre pueden suponer un complemento a nuestra financiación ajena.
4. "Business Angels" e inversores de riesgo: hasta aquí hemos visto opciones donde la fuente de inversión no busca una participación directa dentro del negocio, pero llegamos a una de las mejores opciones cuando se tiene un gran proyecto cuya inversión inicial es relativamente grande. Los "Business Angels" son particulares poseedores de un gran capital, y andan en busca de oportunidades de inversión para poner a rendir su dinero. Convencer a un inversor de confiar en tu proyecto no es tarea fácil, sin embargo, cuando lo logras consigues no solo que este invierta su dinero, sino que además ponga su experiencia para desarrollar con éxito tu proyecto. Un "Business Ángel" querrá participación dentro del negocio por lo que habrá que tener cuidado de no caer en el error de otorgar demasiado poder a terceros perdiendo el control del propio negocio. Otro inconveniente es que, por lo general, un inversor no tiene la misma pasión que nosotros por el negocio, a él solo le interesa ver que su dinero se multiplique y podría ejercer gran presión al exigir resultados.
5.4.3 Obligaciones laborales:
Las obligaciones sociales y laborales surgen como consecuencia de la relación laboral que se establece entre la empresa y los trabajadores que prestan sus servicios en la misma y de la existencia de una normativa específica en materia laboral.
Las principales obligaciones sociales y laborales del empresario son:
a) Antes de empezar la actividad:
1. Inscripción de la empresa en la Seguridad Social para aquellos empresarios que vayan a contratar trabajadores
2. Darse de alta en el Régimen de Autónomos (Empresarios individuales, Comunidades de bienes y sociedades)
3. Dar de alta los trabajadores por cuenta ajena en el Régimen General de la Seguridad Social
4. Comunicación de apertura del centro de trabajo.
b) Después de comenzar la actividad:
Cumplir con la normativa laboral, entre la que destaca el Estatuto de los Trabajadores, el Convenio Colectivo correspondiente, las reglamentaciones de régimen interno y las normas sobre Seguridad Social.
En particular, cumplir las siguientes formalidades:
1. Dar de alta los nuevos trabajadores por cuenta ajena en el Régimen General de la Seguridad Social.
2. Respetar los derechos del trabajador
3. Formalizar por escrito los contratos de trabajo cuando así lo exija una disposición legal y, en todo caso, los de prácticas y para la formación, los contratos a tiempo parcial, fijo-discontinuo y de relevo, los contratos de trabajo a domicilio, los contratos para la realización de una obra o servicio determinado, los contratos de inserción, así como los de trabajadores contratados en España al servicio de empresas españolas en el extranjero. Igualmente constarán por escrito los contratos por tiempo determinado cuya duración sea superior a cuatro semanas.
4. Entregar a la representación legal de los trabajadores una copia básica de todos los contratos que deban celebrarse por escrito, a excepción de los contratos de relación laboral especial de alta
dirección.
5. Informar por escrito a los trabajadores sobre los elementos esenciales del contrato de trabajo y las principales condiciones de ejecución de la prestación laboral.
6. Informar por escrito de cualquier modificación de los elementos del contrato al trabajador que resulte afectado.
7. Comunicación a los Servicios Públicos de Empleo.
Comments
comments